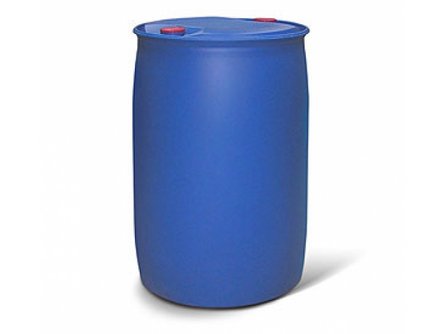 Plastic barrel 227 liters
Used for transporting a wide range of both food and corrosive substances, most of which are prohibited for packaging in metal containers without special coatings: acid, alkaline, chlorinated products and other dangerous goods, temperature not exceeding 80 degrees Celsius. The inner layer of the barrel from natural, uncolored polyethylene, which allows to use it in food industry.
Characteristics of plastic barrels 227 liters
Design specification: TU 2297-001-54011141-01
| Parameter | Value |
| --- | --- |
| Capacity, l | 227 |
| Outside diameter, mm | 585±5 |
| Height, mm | 940±5 |
| Weight, kg | 9,5 |
The main applications of plastic barrels 227 liters - it's chemical, petrochemical, paint and food industries. Quality and technical characteristics of plastic barrels 227 liters correspond to the requirements of Russian GOST and UN recommendations for the transport and storage of dangerous goods categories I, II and III. Stringent quality requirements for manufactured products not only provide Save the packed product, but also guarantee the safety of human health and the environment.